Sales happening at
U Pull It Auto Parts in Amarillo, TX
Every Wednesday "Fill your bucket" Sale.
All the parts that you can fit inside the bucket are $49.99 plus tax.
Buckets are included until we run out. First come first serve.
Bring your bucket back at a later date and get your entry fee waived.
1. 2.00 per person entry fee still applies.
2. No other discounts can be used for this sale.
3. No store credit can be used for this sale.
4. Bucket can not be broken to help carry part.
5. 5 gallon buckets only.
6. No ropes or straps can be used to hold parts in the bucket.
7. Parts cannot hang out of the bucket or extend up past handle more than 6 inches.
8. No core buyers.
9. You can not buy any items in bulk-example alternators,starters ecms etc.
10. All other entry rules apply.
11. All parts in the bucket sale are sold as is and can not be returned or exchanged. No warranties will be available for purchase on these items.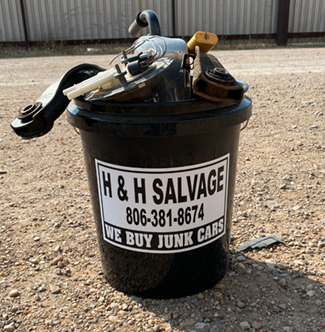 ---
$100 WHEELBARROW SALE!! SUNDAY DECEMBER 6TH FROM 9-5PM!
ALL THE AUTO PARTS YOU CAN FIT INSIDE A WHEELBARROW FOR $100 PLUS TAX! $2 ENTREE FEE PER PERSON. BRING YOUR OWN STANDARD SIZE WHEELBARROW.
1. Only one person can push their wheelbarrow at a time through the timed course..
2. Any dropped parts are not included and will cost the normal price or if you still want the dropped part you can stopy and go back to the line and try again.
3. You can carry as many loads as you want; 1st load must be taken out of the building and re-enter through the normal entry gates and pay per wheelbarrow.
4. Everything is sold AS-IS and can't be returned!!
5. No core charges will be charged if you're participating in the "ALL YOU CAN CARRY SALE".
6. NO BAGS/BACKPACKS OR BLOWN AIR BAGS CAN BE USED TO CARRY PARTS. No exceptions! Bags will be checked in and out sale day.
7. No ropes or straps.
8. NO CORE BUYERS ARE ALLOWED TO PARTICIPATE! (You cannot buy the following parts in bulk: radiators, alternators, starters, condensers, brain boxes or compressors).
9. Bring your own wheelbarrow to help get parts. We offer wheelbarrows but we will run out quickly!.
10. All other entry rules apply.
11. $2 entry fee per person.
12. NO REFUNDS! Make sure you know what you want in the yard before you pay!
13. If you come out and do not want to participate but do want to buy parts, all normal pricing, core charges and fees apply to all sales.
14. Self-service yard only.
15. Anything already pulled in the shop or near the shop are not included. Motors, tires, body parts, etc.
16. Not respponsible for any injuries.
17. No parts are allowed to hand off the side of the wheelbarrow. If you cannot hang on to the wheelbarrow and push it with parts hanging off, you will have to remove said parts.
18. No pickup beds.